Advancing the Wellgreen project to a production decision is the challenge that president and CEO Diane Garrett took on in mid-2016 when she came on board to turn the company around and orient it onto a growth trajectory.
"I did six months of due diligence using top people in the mining space before I came on board. I became fascinated because it is such a unique asset, large in scale, not just a base metals project due to the precious metals component, and with infrastructure and easy routes to market. It was so undervalued that it reminded me of the early days of Romarco in South Carolina," she says.
With leadership experience as the president and CEO of Romarco Minerals, Dayton Mining and US Global Investors, Garrett's first task on the turnaround was to overhaul all the past technical work and bring it up to a high level of technical understanding so that the company could advance its near-term growth trajectory towards pre-feasibility or feasibility. The key aspect here was metallurgical testing and reworking the geological model.
"There was very little metallurgical testing done before so after drilling across the entire orebody to take representative samples from all the geological domains we were able to take the metallurgical testwork to a far more advanced stage of scientific testing. The metallurgical study is near PFS level and in Phase 1 of the met program, we successfully produced our highest quality bulk concentrate sample ever, comprised of 12% nickel and copper. In addition we updated the geologic model," says Garrett.
Having raised C$9.5 million (US$7.6 million) in August 2017, the company now has about $14 million in the treasury with which it is completing a 3,000m infill drilling programme that will lead to a resource update and provide material for additional metallurgical work.
The company is now waiting for the final piece of the metallurgical puzzle for the time being to fall into place as it undertakes test work on the possibility of producing split concentrates rather than a bulk concentrate. Results are due in the first quarter in H1/18 on the ability to produce a nickel concentrate that would also contain the PGM's and a separate copper concentrate that would also contain the gold.
"Separate concentrates would be game-changing and provide flexibility to send concentrate feed into both the nickel and copper smelters, reduce shipping costs associated with a bulk concentrate, and provide higher payables than currently anticipated with a bulk concentrate. This has great implications for the mine plan as it brings in copper-rich zones that wouldn't make the cut if we were to design the mine towards bulk concentrate production," she says.
The results of this testwork will determine which development path the company takes in 2018 regarding undertaking a PFS or FS for the Wellgreen deposit that has a measured and indicated resource of 2 billion pounds of nickel, 6 million ounces of PGM's and gold and 1 billion pounds of copper. "Assuming continued success, it will take us a year-and-a-half to do a FS. Permitting will be another two or three years and the construction will be a further two years, so we have a lot of work to do. But this schedule could be reduced if the company obtains a joint venture partner at some point down the road.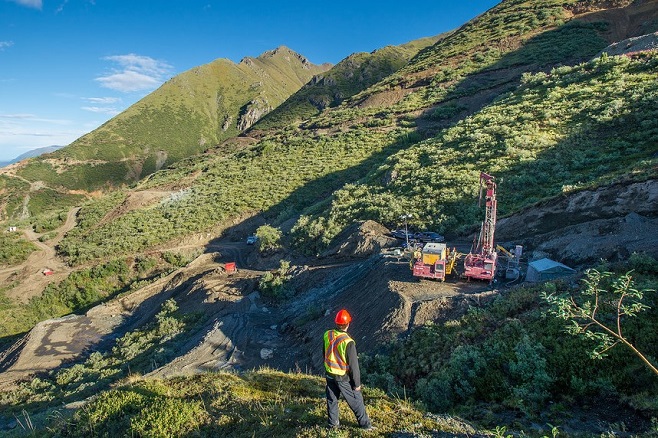 Wellgreen in Yukon: Production of separate concentrates would be game-changing and provide flexibility to send concentrate feed into both nickel and copper smelters
"A bigger company, with internal funding capabilities, could do an internal feasibility study so that could cut out some time and it is a possible scenario," she says.
That interest is likely to start growing as the company embarks on its first serious marketing campaign since Garrett took the reins.
"Wellgreen fell off the radar but we are now getting out to meet retail and institutional investors, and looking at initiating coverage with mining analysts. Institutions and generalist investors are really starting to move into the nickel-copper realm, anything related to electric battery markets and once people are turned onto that, they can start to see how unique the Wellgreen project is," says Garrett.
Garrett expects that as the company continues to advance and derisk the project, it will attract greater and more serious interest from larger companies due to the increasing scarcity of the elements the Wellgreen deposit contains. Although early in the process, the company has been in discussions with various smelters.
"The PGM industry continues to be supply pressured, as over 90% of PGM production comes from Russia and South Africa. Further, production in South Africa is in such dire trouble that earlier this year we saw Sibanye Gold acquire the Stillwater asset in Montana for $2.2 billion. Meanwhile, the demand for high quality nickel concentrates continues to grow from starved nickel smelters worldwide, and at current pricing approximately 50% of Wellgreen the returns will be from nickel which would produce a high value nickel concentrate," Garrett says.
Location could prove to be the project's trump card. Yukon is increasingly establishing itself as a serious and workable mining jurisdiction with supportive government and local communities. The Wellgreen project site is just 14km from the Alaska Highway via an all-season access road, and from the highway it can transport directly to the deep sea shipping ports of Haines and Skagway in Alaska, for shipping to smelters in Asia, Europea and eastern Canada.
Earlier this year the Yukon government revealed a landmark highways funding project to help stimulate mining sector growth, and it is evaluating doing something similar to help increase power supply in the territory.
Wellgreen has already held initial discussions about the use of LNG from British Columbia to its site, and the Yukon government is also looking at the possibility of adding to power supply through LNG. An added dimension is that Wellgreen is within the traditional land of arguably the most business-orientated First Nation in the territory, the Kluane First Nation.
"We have a strong working relationship with the Kluane First Nation, who are very much in favour for the project, and we look forward to continue to foster this relationship going forward," Garrett says.
Wellgreen Platinum - at a glance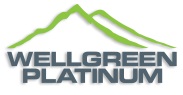 WellgreenLogo
HEAD OFFICE: 130 Adelaide Street West, Suite 3001, Toronto, ON M5H 3P5
Telephone: +1 416 304 9315
Email: info@wellgreenplatinum.com
DIRECTORS: Myron Manternach, Diane Garrett, Mike Sylvestre, Michele Darling, Wayne Kirk, Mark Fields, Gillyeard Leathley.
QUOTED SHARES ON ISSUE: 236.6 million
MARKET CAP (at October 16th, 2017): C$69.8 million
MAJOR SHAREHOLDERS: Electrum 26%, Resource Capital 11%, Drake 9%, Toqueville 5%