The company's eye-catching climb towards the C$1 billion market-cap level was happening almost as delegates watched and listened to Novo (CVE: NVO) chairman Dr Quinton Hennigh as he moderated a live satellite broadcast from on the ground in WA.
"What we're going to do is something a little unusual today … You get to witness, first hand, the discovery of a gold deposit here today," Hennigh said, before handing over to Novo head geologist Luke Meter.
Meter picked up the commentary as he descended into a freshly dug trench about 30m long, 10m wide and up to 5m deep, "the first of many trenches to come at Purdy's Reward" on a gold-bearing conglomerate horizon said to be up to 8km long.
"Our exploration here has already exceeded expectations.
"We'll be commencing diamond drilling next week, then wide-diameter RC for bulk samples."
Using metal detectors, jackhammers and picks to pinpoint and then break open patches of rock in the trench to reveal gold nuggets, Meter and the team at Purdy's had a packed conference room at Colorado Springs enthralled as the unique presentation went off without a hitch.
Hennigh, an economic geologist and 25-year veteran of exploration with major and small gold companies, said planned drilling - likely to produce a continuous stream of news from the site for the foreseeable future - aimed to follow the conglomerate bed down-dip to the south-west from Purdy's Reward, into Novo's 100%-owned ground (see schematic section below).
The company started aggressively staking down-dip extensions of favourable Fortescue Group conglomerate horizons containing the widespread, coarse gold recovered so far at both Novo's Beatons Creek property, near Nullagine, and around Karratha, more than a year ago and now has about 9,000sq.km of ground under application or already being explored.
Trenching, drilling and bulk sampling on gold-bearing conglomerate horizons at Beatons Creek has produced initial shallow resources of about 500,000oz seen to be amenable to low-cost mining and possible economic gravity and CIL gold recovery. Novo is doing more metallurgical work as part of economic studies expected to be concluded in the current quarter.
Drilling is also ongoing at the site and resources will also soon be updated.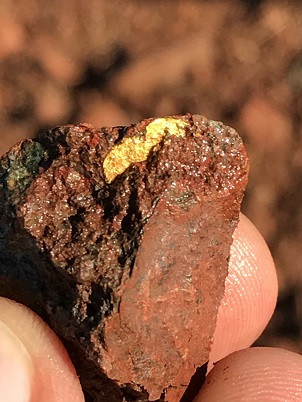 But it's fair to say the work near Karratha, so far uncovering richer conglomerate beds and high-purity (96-98%) gold nuggets, is generating the biggest buzz at the moment as Novo looks to apply refined exploration methodology to the search for large-scale deposits.
It says the gold mineralisation at Karratha is hosted by a sequence of conglomerate beds and fossil gravel horizons, ranging from a few meters to about 20m thick, that form the base of a much thicker package of sedimentary and volcanic rocks (the Fortescue Group). In the past 12 months, local prospectors with metal detectors have extracted gold nuggets from weathered conglomerate along the 8km southwest-trending corridor between Purdy's Reward and Novo's Comet Well ground.
The gold-bearing conglomerates dip at between two and 20 degrees to the south-east, under cover, and Novo's major staking effort has given it control over about 7,000sq.km in areas along strike and down dip from Purdy's Reward and Comet Well.
Novo thinks the gold-bearing conglomerates may underlie significant areas within the greater Fortescue basin.
Earlier this year the company recovered gold nuggets from a bulk sample collected at Purdy's Reward. Metallurgical testing put the weighted average grade of two splits of the sample at 67.08 grams per tonne gold. Novo says more than 80% of the gold in the sample was coarse, "mainly nuggets displaying several interesting characteristics".
"These are commonly flattened with rounded edges giving them an appearance similar to watermelon seeds. Most are coarse, plus-2mm and are not attached to quartz or other minerals. The plus-96% purity of the gold is much higher than the gold content of nuggets derived from basement-hosted lode gold deposits from the Pilbara region."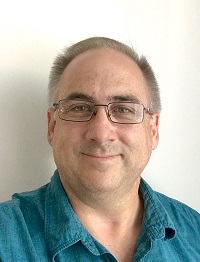 Hennigh (above) says the "exceptional deposit" is going to take "exceptional exploration techniques" to demonstrate its potential.
Novo's initial two-pronged approach to drilling at Karratha sees scout diamond core holes being used to probe the depth and thickness of targeted gold-bearing conglomerates. Then, 17.5-inch RC holes will be drilled to collect bulk samples. Novo is using Orlando Drilling for the diamond holes and FORACO for the large-diameter RC.
It plans to crush, screen and sort samples on site before delivery to Nagrom Metallurgical Laboratory in Perth. Assays are expected to take 4-6 weeks to turn around.
"We are looking at doing large diameter drilling as well as large-scale trenching over the coming months," Hennigh says.
"The conglomerate horizon that we're targeting dips at a fairly shallow angle - anywhere from flat down to about 20 degrees - and the country beyond where it daylights … is fairly flat for probably about 0.5km to 1km. So we have a pretty large area where we can go in and more or less grid drill on a fairly tight spacing and [do] resource level work.
"But we do think this conglomerate dips further into the basin … and we plan to tackle the down-dip part of the system.
"We have similar mineralisation at Beaton's Creek [near Marble Bar] … where we've taken bulk samples and been very aggressive with our analytical techniques. It's an extremely nuggety gold system. But over here [Karatha] it's even coarser and the gold is more erratically distributed. We have to take 0.5-1 tonne samples to get anywhere near adequate representation.
"So [we are] going to collect large-scale samples both from large-diameter RC drilling as well as from trenching, and then we're going to process those almost like a mini metallurgical sample. We're going to crush the material down, put it through an ore sorting machine … [which] is very effective at identifying particles of rock that bear metallic gold, and so it basically sorts the particles of rock out, with metallic gold, makes a concentrate out of that, and then the tailings go onto a separate chute.
"[For] each one of the samples we'll end up with a concentrate and then we assay both the concentrate … and the tailings. We recombine those numbers to get an overall assay grade for each sample. We think it will generate a number of highly competent results."
The early-stage exploration has drawn in new major shareholder Kirkland Lake Gold, which invested C$56 million for its 17.93% stake. Successful Australian prospector Mark Creasy is another key stakeholder with 7.63%.
Novo had about C$70 million in the bank at the end of September.
"The money that we've raised gives us the latitude to go ahead and tackle this thing in a very aggressive way," Hennigh says.
"We are delighted to have Kirkland's support.
"Their geologists were quick to see the continuity in the system. My impression of what they felt confident about was seeing here on the ground the distribution of gold that's been found. You can actually see the places where people have dug gold nuggets out of the soil that's eroded from these conglomerates.
"People who've had boots on the ground out here easily see the potential of this.
"It's very easy to see the millions and millions of little holes in the ground where people have dug up nuggets and it's easy to see how it continues along strike.
"The mind can only imagine how much further this thing goes down dip."
Novo Resources Corp - at a glance

NovoLogo
HEAD OFFICE: 1075 West Georgia St, Suite 1980, Vancouver, BC V6E 3C9, Canada
TEL: +1-(416)-543-3120
Email: leo@novoresources.com
DIRECTORS: Dr Quinton Hennigh, Greg Gibson, Akiko Levinson, Herrick Lau, Luca Bechis
MARKET CAP: (at 17 October 2017) - C$1.01 billion
QUOTED SHARES ON ISSUE: 196 million
MAJOR SHAREHOLDERS: Kirkland Lake Gold (17.93%), Management/insiders (16.89%), Creasy Group (7.63%), Newmont Mining (4.11%)