Engebo is near Naustdal on the north shore of Fordefjorden next to the North Sea in the west of the country.
Nordic has spent eight years from 2007 to 2015 securing regulatory and environmental permits. That it's been a lengthy process is undeniable - Scandinavia has some of the strictest permitting standards in the world. But by getting regulatory clearance out of the way, CEO Ivar Fossum said he had gone a long way to derisking a project that could begin construction in mid-2020 with first production two years later.
"Once you get the political decision and the permits then the constitutional risk in Norway is virtually zero, but we were determined to get the thing firmly anchored, before pushing ahead on other fronts," he says.
The company has been heavily involved in discussions with the municipality and local community groups to convince stakeholders of the societal and economic benefits of the mine and to show how Nordic can pave the way for sustainable mineral operations in the years ahead.
"I think people have been quite receptive," Fossum says.
"There has been a little resistance in the media, especially locally. It's perhaps impossible to convince everybody. But this has been a time of education for everyone concerned and I am delighted to say that in consecutive local elections we had a clear majority in favour for the project."
He says Naustdal is a community in need of local jobs and Nordic's project comes in good with a business with $100 million of revenue, 110 employees and an operation with a mine life of at least 29 years, "perhaps 50-70 as this deposit is a huge resource".
For a country renowned for its commitment to green energy, it is apt, suggests Fossum, that the mine would be primarily fuelled by hydroelectric power.
"We are just by the coast so we don't need to build a lot of infrastructure to transport our product. It is partly about building a mine and its partly about changing the way society thinks about mining. We will be producing minerals that have a use in society and which are critical for things we have around us. So it has been an educational journey for the public and the company."
It will be the first rutile (titanium dioxide) mine in Scandinavia and only the second in production in Europe (the other is in the Ukraine). As for garnet, (used in waterjet cutting, sand blasting and abrasives), it will be the first in Europe.
Nordic acquired the rights to the Engebo deposit in 2006; the zoning plan and environmental permits were granted in April 2015 and the pre-feasibility study was published in October 2017. Highlights of that study make impressive reading. The dual-mineral operation with production of "high-quality rutile and garnet" was said to have attractive project fundamentals with a real pre-tax NPV at 8% discount of $332 million, an IRR of 23.8% and pay-back period of five years. Post tax NPV at 6.8% was forecast at $305m with IRR at 20% (base case). Payback time was estimated at five years for a capital investment of $207 million.
A standout of the project, says Fossum, is the low level of impurities. Based on product quality and particle size distribution from the PFS, it is envisaged Engebo rutile will be a suitable feedstock for chloride pigment and titanium metal applications. Rutile is also used in the manufacture of refractory ceramic, while finely powdered rutile is used in paints, plastics, paper, foods, and other applications that call for a bright white colour.
Strong titanium oxide demand from various end-use industries such as construction, automotive, packaging and electronics is expected to further propel global rutile market growth with reports forecasting supply will struggle to keep up with demand.
Industrial garnet is witnessing increased demand from aluminium aircraft and shipbuilding industries for finishing metal surface and for blast cleaning.
With an increasing number of water treatment plants across the globe, the demand for garnet used in water filtration industry is also growing.
The Persistence Market Research report suggests the global market for industrial garnet will record steady growth: by the end of 2024, the global industrial garnet market is estimated to reach $721.8 million of sales.
As it has direct access to the North Sea and major European waterways, the Engebo project will benefit from lower regional transport costs.
The funding outlook for Nordic is promising. It signed a heads of agreement with a Japanese trading house in early 2019, winning a long term offtake for rutile and participation in project financing. In 2017 Nordic signed a heads of agreement with Barton Group which provides garnet abrasives used for waterjet cutting in North America.
Under the terms of the heads of agreement deal, Barton and Nordic will establish long-term cooperation within development, production, sales, marketing and distribution of garnet products from Engebo. This will include an off-take agreement, joint marketing, and sales and distribution arrangements for garnet products to the international markets.
A key point for Nordic is that "our offtake partners intend to participate with a substantial portion of the financing. That's another element of derisking that stands us in good staid," says Fossum.
There is also the possibility of a substantial NPV upside from mining large inferred resources to the east, west and depth of the deposit.
Fossum says: "It is a low-cost operation due to outcropping, a high-grade mineral deposit, low stripping ratio, geotechnically stable orebody, and limited transportation costs as the mine is near to the quay."
Nordic will process the products to create a concentrate that can be shipped to customers in the Far East, the Americas as well as European markets nearer home.
"With negligible contents of radioactive elements and heavy metals, the deposit is a clean source of high-grade and high-quality titanium and garnet minerals. Unlike most rutile deposits, the Engebo rutile is contained in a hard-rock ore, a massive body of eclogite."
The deposit forms a 2.5km long east-west trending lens that runs parallel with the Forde Fjord and the Engebø ridge.
The optimised business case comprises an openpit mine at 1.5Mtpa for a good 20 years (improved by about five years since the PFS) followed by underground operations for a further 13 years.
"We have a huge green wave in Norway," Fossum says.
"Most people don't realise that if you want to harvest the energy from the sun, you need between 13 and 16 mines, otherwise forget about that energy. You need between 13 and 16 elements to convert the heat from the sun to produce solar power that we can use in our houses (copper, aluminium, titanium are components of solar panels)."
Fossum says he thinks investors are impressed that Nordic has the patience and the integrity to stick to its long term plan even though things have taken longer than expected.
"Yes, the share price is a bit depressed, but with smaller one-project companies such as ours, it's not always easy to realise good valuations.
"But as we move towards publication of the DFS in the final quarter of this year, and then on to financing and construction, hopefully this should have an effect on our market value."
* Nordic also has an 18.5% stake in Keliber, a lithium project in Finland that aims to be the first European producer of high-grade lithium hydroxide for the fast-growing battery industry. Construction could start at the end of 2019.
ABOUT THIS COMPANY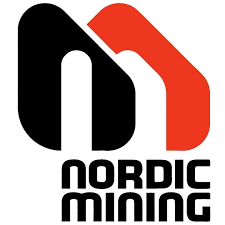 HEAD OFFICE
Munkedamsv 45A/N-0250 Oslo, Norway
Ph: +47 22 94 77 90
Email: post@nordicmining.com
Web: https://www.nordicmining.com/
DIRECTORS
• Kjell Roland
• Kjell Sletsjøe
• Benedicte Nordang
• Eva Kaijser
• Ivar S. Fossum
• Antony Beckmand
QUOTED SHARES ON ISSUE
• 143.8 million
MARKET CAP (at October 2, 2019)
• NOK267.85 million
MAJOR SHAREHOLDERS
• Nordnet Bank (8.72%)
• Verdipapirfondet Nordea Avkastning (6.02%)
• B-L Holding Company (3.45%)
• Nordea Bank (4.1%)
TOPICS: