"At Springpole we surface the value by getting the PFS done as soon as possible, continue to de-risk the mine engineering and undertaking ongoing environmental assessment baseline work in support of the environmental impact statement, which we plan to submit for review early next year," Wilton said.
The company is meanwhile looking to demonstrate promising exploration results at the earlier-stage Goldlund project, about 165km to the south near Sioux Lookout, are no flash in the pan, either.
"We believe we're still being valued as a mineral bank, with very little love given for the development and in particular the exploration progress we've made at both projects," VP corporate development and IR Mal Karwowska told Mining Journal.
First Mining has an undeveloped resource base of 11Moz across its assets, including 4.67Moz grading 1.04g/t indicated at Springpole.
It updated October 2019 project PEA calculated a post-tax NPV, at 5% discount, of US$841 million and an IRR if 22% over a 12-year mine life. The PFS is progressing apace, with metallurgical drilling just completed, and further geotechnical drilling ongoing to aid in mine design and optimisation.
First Mining is targeting average output of 410,000oz from the second year of an operational Springpole, with a projected spike in year five to circa-530,000oz. With that profile the project looks like the type of asset that should demand the attention of bigger miners, as well as investors.
Getting the substantial development proposal through permitting is the critical task at hand.
First Mining's market value reflects a deep discount to its peers as investors take a wait and see approach. With significant Ontario gold projects such as Cote, Hardrock and Magino also not currently getting built, investors are rightfully asking what's different about Springpole.
"There are a number of differentiators which really places Springpole in a league of its own," answers Wilton.
"The orebody is homogenous and the openpit is a mining engineer's dream. It's essentially one giant blob of mineralised rock, continuously mineralised for hundreds of metres. It's very well drilled, and we understand where the higher-grade spots are.
"The block model shows some promise and that's one focus of the trade-off studies underway for the PFS right now, to see whether we can constrain a smaller, cheaper and higher-grade operation to get going with."
Lending credence to the company's mineral-bank-to-developer pivot has been the appointment of Ken Engquist as COO early last year. Engquist worked on Rio Tinto's Oyu Tolgoi project in Mongolia, coordinated the feasibility study for Arizona Mining's Hermosa project in Arizona before South32 swooped in, and played an integral role in the development of the Karma project in Burkina Faso under the Oxygen Capital/True Gold banner.
Engquist said the current challenge was to come up with an optimised mine plan requiring a smaller capex hurdle than the US$809 million (plus $150 million sustaining) in the PEA.
The Springpole deposit is under a portion of the lake of the same name, and the proposed openpit mine would require draining about 6% of the lake via the creation of coffer dams. Engquist said the approach was well accepted in Canada, with coffer dams used without issue at Agnico Eagle's Meadowbank in Nunavut and Rio Tinto's Diavik mine in the Northwest Territories.
"We're essentially looking at pumping out some of our strip ratio, which bodes well for lower costs," said Engquist.
Current work is focused on smoothing permitting, including moving a proposed tailings impoundment and waste rock dump to the east, and changing from conventional tailings storage to dry-stacking which could also decrease trucking distances and reduce PEA projected costs.
"We're going to have to do thickening of the tails and insert a synthetic liner. We're not going to get away with not solving the water solution thoroughly," said VP for environment and sustainable development, David Mchaina.
Following on from the metallurgical drilling, a series of geotechnical holes will aim to test the competency of the lake bedrock with a view to designing steeper pit walls. It will also look at backfilling the openpit from west-to-east to improve efficiencies.
"We'll be dumping much of the material right next to where we'll be mining," said Engquist.
"There are also new flotation technologies out there that have been successfully deployed at Timok and Hermosa which added about 10% to recoveries at those operations, which bodes well to further move the needle on Springpole's economics [current recoveries are pegged at 90.6% gold and 95.1% silver]."
Discovery upside
The brainchild of First Majestic Silver boss Keith Neumeyer, Vancouver-based First Mining began its metamorphosis from First Mining Financial in earnest in January 2019 with the appointment of Wilton as CEO.
He brought with him significant experience from the private equity sector, most recently as a partner at Pacific Road Capital Management.
"I think we get zero value for Goldlund and we're talking to a number of strategic parties and investors regarding how to surface the value," said Wilton.
"We're grappling right now with how to best approach the value proposition. Do we spin it out, or combine it with something else? There are several options and it's something we'd like to address this year.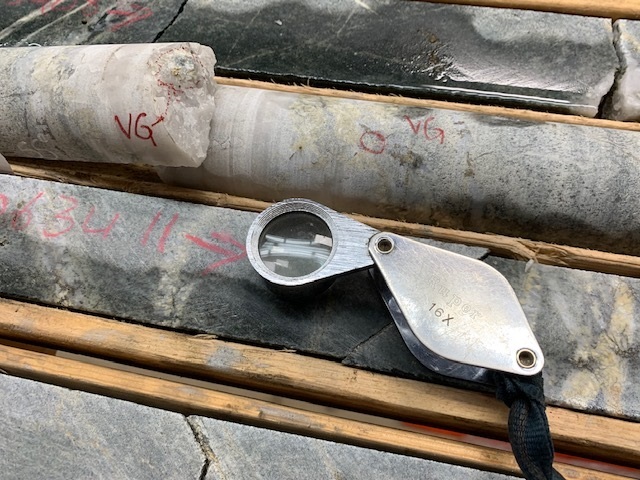 Recent Goldlund drilling has returned several intercepts of visible gold
But Wilton also immediately set about building a multidisciplinary team at First Mining with the skills and experience to develop projects and shift the company's focus from just evaluation and acquisitions.
Exploration at Goldlund is continuing, with drilling to infill work on the Main Zone but also test for lateral extensions. The project hosts 809,200oz grading 1.96g/t in the indicated category and 876,954oz at 1.49g/t inferred. First Mining has completed the 4,000m campaign that ran over from 2019 and expects to outline plans for summer fieldwork in the coming weeks.
Geologist Andrew Wiebe said the trend "abounds with targets", flanked by Treasury Metals' permit-stage Goliath (1.23Moz measured and indicated at 2.36g/t) to the southwest and Group Ten Metals' Black Lake-Drayton project to the northeast, where an eight tonne bulk sample returned a grade of 14.1g/t gold.
First Mining has completed about 40 drill holes during the 2018 and 2019 field seasons which are not yet included in the resources estimate, something which Golder Associates is working on.
"The trick is to find the areas where these structures have entrapped higher-grade gold mineralisation. Despite the nuggety nature of the higher-grade intercepts we've reported, which could be a headache, the fact Treasury Metals is getting the Goliath mine, mill and tailings dam permitted 25km to the south is a real positive for the Goldlund story," according to Wiebe.
He said the mineralised granodiorite structures found over a 50km-long-by-30km-wide trend represented exciting exploration potential. Other priority targets include Camreco South and Mistango to the south of the existing resource area.
With about 722 million shares outstanding on a fully diluted basis, the company is weighing its options on how to reorganise the capital structure to make it more attractive for investors. The company would probably have to consider a share roll-back at some point down the line.
Wilton pointed out most of the shares were issued to acquire the portfolio. "From a big picture perspective, I feel agnostic about it. Not about the dilution, but the difference between us and other companies is we're underpinned by $1.5 billion of real asset value. Our market value at C$120 million today is absolutely irrational," he said.
"But this is set to change as we move to a situation where we can demonstrate some longer-term funding options, the ability to shine some light on the value of other assets in the portfolio and off course, get a proper Springpole PFS out and get the EIS submitted. As it stands, at US$1,500/oz, Springpole's NPV jumps to $1.22 billion, and the IRR improves to 28%."
Wilton said the company was already making progress on framing value for its other assets, including the nearby Pickle Crow, where it recently entered a partnership with Australian company Auteco Minerals.
"As soon as they put out a resource on Pickle Crow in the next year, it's going to be worth substantially more than today," he said. The company maintains a 20% stake under the option agreement.
First Mining also owns a package of assets on Quebec's Abitibi greenstone belt and the Hope Brook project in Newfoundland and Labrador.
TOPICS: