In an industry facing challenges such as resource depletion, shifts to remote locations with low-grade ores, stricter environmental regulation and volatile commodity prices, no miner can afford to miss out on the benefits that digital can deliver to their top and bottom lines.
While some mining companies have ventured into this realm, many have not yet taken a disciplined, strategic approach to leverage digital technologies. For some, the multitude of opportunities that vendors offer and confusion over how to best bring them together into an integrated whole present daunting challenges. Where to start? We believe miners must ask themselves two questions: 'How can digital help us reinvent our current operations to make them better?' And 'How might we reconfigure our business model in the future, to take full advantage of digital?'
Digital technologies (figure 1, below) can help miners enhance efficiency at every step in their value chain. Consider a few examples. Some of these ideas are far from commercial use. But miners can still benefit from thinking about how such approaches could help transform their current operations.

Mine-site planning and building
Artificial intelligence (machine-based systems that can reason and make decisions under uncertainty) and virtual reality (artificial, immersive simulations of real-life environments) can help miners integrate geological, mineralogical, metallurgical and other data to take more informed decisions based on live life-of-mine simulations during mine planning, and later, for running operations. Result: a 'digital mine' that enables companies to anticipate and resolve potential problems. This approach uses a 'digital twin' in which the mine is simulated end-to-end, based on recent, live data available from exploration work. Such simulation improves the odds that the mine, once built, will maximise the value from the endowment value.
Extraction and processing
In core mining operations, extracting only what matters reduces waste and minimises environmental impact. Fully automated and AI-empowered equipment can help optimise extraction processes continuously. For example, the equipment uses machine learning and 'swarm' intelligence (the collective behaviour of decentralised, self-organised systems) to identify well spots and perform in-situ mining, optimised without human interference. Mobile digging robots can integrate crushing and leaching processes to eventually eliminate steps like loading and hauling. Through product tracking technologies, data on ore grade and waste can follow extracted materials from the pit through real-time processing. The company can use the data to adjust midstream processing steps like refining or leaching as needed to improve product delivery to end customers. Finally, thanks to predictive maintenance, robots could know when one or more of their parts need replacing or fixing. And through 4D-printing, they can print their own spare parts, which may lie flat for transport and then assume their final shape in the mine environment, ready for assembly by robots.
Safety
Digital technologies can help miners improve safety in many different ways. For instance, mining companies can outfit equipment like helmets and vests with sensors and with optical and voice recognition technologies. These technologies enable workers to connect with leading experts anywhere in the world in real time to receive guidance on how to fix complex and dangerous equipment malfunctions. Smart wearables like virtual reality glasses can help workers receive safety-procedure reminders or warnings through augmented reality (such as hazards lying ahead) when entering certain areas in the mine. And technologies that automatically detect equipment-related anomalies (such as insufficient space between a sensor worn in an employee's jacket and heavy equipment) can force equipment to halt, move or adjust its functioning to prevent injury.
Reinventing business models tomorrow
Using digital technologies to transform miners' current operations delivers important benefits. But using them to reinvent business models in the future will present the biggest value-creation opportunities. As in other industries that have capitalised on digital, new partners, suppliers and vendors are emerging in the mining industry—changing the rules about who creates value, how it's created and who will be capturing the lion's share of new and shifting profit pools. Under these conditions, miners should start asking themselves what role they will play in the future ecosystem and how they should reconfigure their business model—their way of making money—to capture maximum value in the future.
As just one example, some original equipment manufacturers (OEMs) now sell productive hours of equipment usage to miners, versus selling the equipment itself. This 'solution provider' model can benefit both sides: The OEMs retain ownership of the equipment and can outfit it with sensors that collect data on operations as equipment is used (such as weight transported per day by a haul truck, or fuel consumed in specific operations). The OEMs can use the data to improve equipment design, to enhance its reliability, efficiency and performance—which in turn benefits their mining customers.
We see many suppliers moving toward such models, and miners must ask, 'What does this mean for us?' Given the multitude of complex solutions coming from suppliers, miners have to know how to assess these offerings, identify the most valuable deals, determine how best to pay for them and—most important—integrate them into their vision of the mining company of the future.
To do all this, miners will need to assess the role of data in shaping future business models in the industry, including who generates, owns and sells data. For instance, is it better to own particular data as intellectual property and gain a competitive advantage from it? Share it with partners? Make it publicly available because others can generate the most value from it for a mining company? What risks does a company face by putting its data out in the open, knowing that once this happens, the data cannot be pulled back? With such questions in mind, some miners are taking early steps; for example, building supplier platforms to decide how to manage and control data ownership.
Data, however, is only one example. Eventually, miners might consider whether they should think even further outside the box. For instance, they can ask themselves, 'Do we need to invest significantly in resources with extreme ore concentrations, like asteroids?'
Getting started now
To fully capture digital's promise, miners must think carefully about the topic and act now. This includes be willing to fail and to learn lessons from their failures—fast. A three-step process for conducting small pilot projects focused on specific technologies and assets can help (figure 2, below).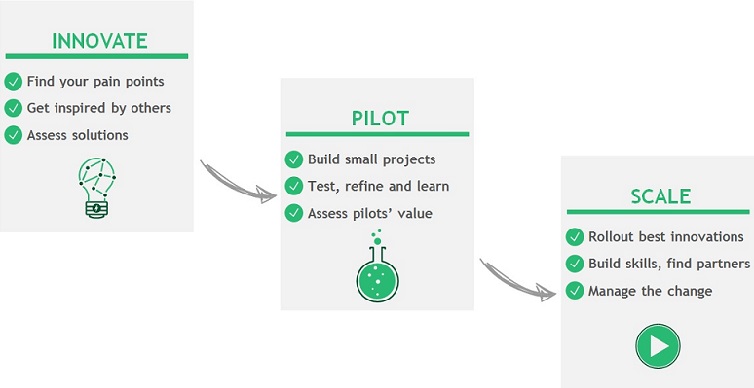 • Innovate. Identify challenges and pain points facing your company that specific digital technologies may help you solve—such as underperforming operations or high operating expenses. Gain inspiration and insights by discovering how companies in other industries are using digital to surmount similar challenges. Assess solutions' technical feasibility and prove their value. Analyse novel and piloted IT platforms and identify capabilities you'll need.
• Pilot. Build small pilot projects for the solutions you've chosen. Test them and use the resulting lessons to refine them. Assess the value they generate, including how strongly they support your future-mine vision.
• Scale. Kick off a full-scale rollout of the most valuable solutions you've piloted. Build required in-house skills, and forge new relationships with external partners and technology vendors as needed. Initiate and manage the changes required for full implementation of these solutions—for example, in organisational structures, business processes, systems and ways of working.
To capitalise on digital's opportunities, miners must act now. By considering how digital technologies could transform their operations today, they can achieve unprecedented new efficiencies. In parallel, they should consider how digital could revolutionise their industry's business models in the future and what revenue-enhancing opportunities these changes might present for them. With an overarching vision of 'the mine of the future,' they can refine that vision to reflect their own capabilities and insights gained from their experiences. Those that excel on these fronts will stand the best chance of seeing value created from digital technologies go straight to their bottom line.
*Matthias Tauber (tauber.matthias@bcg.com) is a partner and managing director at BCG; Dr Jan Philipp Bender (bender.jan.philipp@bcg.com) is a partner and managing director at the firm; and Dr Adrian Schulte Steinberg (schultesteinberg.adrian@bcg.com) is a project leader at BCG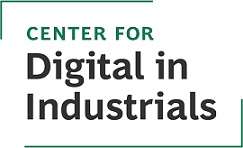 This article is part of BCG's thought leadership driven through our Center for Digital in Industrials (CDI). The CDI helps leading companies realise the promise of digital by staying ahead of the technological developments particularly relevant to industrial companies. We apply digital technology to industry use cases and deliver the full range of capabilities required to serve the unique needs of each client. And we bring precisely the right specialists that each individual situation demands.